New Zealand, Part 2(b): South Island, continued
Here is the third and final part of our New Zealand adventure, covering the remainder of our time on the South Island. Check out parts one and two if you haven't already.
From Te Anau, our next stop was an area called The Catlins, in the far south of the South Island. Al and I had both been looking forward to The Catlins, but it turned out to be one of my least favorite parts of the trip. It's not that the scenery in The Catlins isn't impressive — it is! very! — but the weather was so utterly hideous that it was hard for me to enjoy it. I grew up in Michigan and I thought I knew from variable weather, but The Catlins was a whole new ballgame. Within seconds, we'd watch the sky turn from sunny to ominous gray and then start to rain, which would then progress into hail, and then snow, and then back again, over and over. The entire day that we drove through The Catlins, we were barraged with a mix of rain, hail, and snow, punctuated by brief moments of sunshine. Even when the sun was out, though, it was still bitterly cold (hence the snow flurries), and I spent a lot of time sitting in the van with the heater on full blast while Al would hop out to take photos, and then rush back in.
It was also really windy, so driving along the treacherous, winding coastal roads often felt perilous, as our van rocked back and forth with each gust of wind.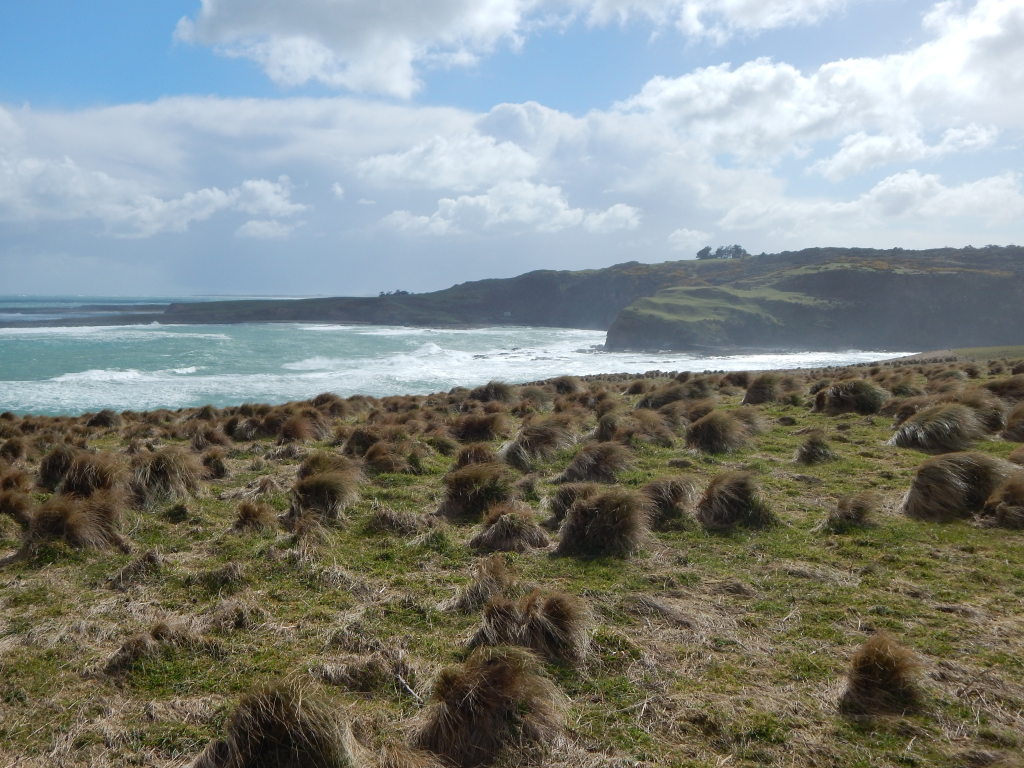 We stayed at a campsite that was sort of in the middle of nowhere (like most things in The Catlins, I guess) and no-frills. Let me assure you that getting up to use the (unheated) facilities in the middle of a rainstorm was not awesome. Neither was being passively aggressively told off by some lady in a giant RV in the morning for making too much noise while opening my van door to go to the bathroom at midnight. (EXCUSE ME FOR BEING PREGNANT, LADY. Sheesh.) Anyway, we did see some really cool stuff in The Catlins, like Slope Point (the southernmost point in NZ), and we had a really good meal on the road (at the Beachhouse Cafe in Riverton), but I was ready to be done with the whole area after a day or so of crazy weather.
We fled The Catlins for Dunedin, known by Kiwis as "the Edinburgh of the South." Dunedin, at first glance, is sort of unremarkable, especially compared with the in-your-face scenery along the west coast of the South Island that we passed through to get there. But it's sneakily charming in an understated, Scottish way. Al and I didn't get up to much in Dunedin other than a bit of sightseeing and eating, but it was a pleasant, low-key stop for us. In town, we visited the Otago Settlers' Museum, which turned out to be really interesting. Dunedin was settled by Scots, and the city still retains a strong sense of Scottish heritage (hence, Al noted that everyone in Dunedin looked like they could have been related to him). At the Settlers' Museum, they had a room where you could put on Scottish settlers' outfits and pose in front of a backdrop. Al's picture was pretty authentic.
After Dunedin, we drove north toward Christchurch, but we made a few stops along the way, including in Oamaru, the steampunk capital of NZ. Steampunk is, according to Wikipedia, a "sub-genre of science fiction that typically features steam-powered machinery, especially in a setting inspired by industrialized Western civilization during the 19th century." Oamaru lends itself well to being a steampunk center since its main street is lined with limestone buildings from the 19th century, giving the whole place a Victorian feel. Oamaru seems to have embraced the Victorian/steampunk theme wholeheartedly; there's even a steampunk-themed playground. We checked out Steampunk HQ, a weird and fairly creepy museum stuffed with odd bits of machinery and art, blending Victorian era technology and the macabre.
The day we visited Oamaru happened to be Al's birthday, so we stopped in a Victorian-style hotel for a beer (for Al) and a flat white (for me), and browsed through some of the little artists' shops along the main street. We also popped into the Whitestone Cheese Company to taste some of the local delights. We demolished a full cheese board as a snack (don't judge us) and then got on the road to Christchurch.
Christchurch was devastated by a series of huge earthquakes in 2010 and 2011 and is still rebuilding. I think because of this, Al and I had a hard time getting a feel for the city, much of which is still under scaffolding. Part of the problem, too, was that it was raining for most of the time we were there, and a lot of the activities we had read about in our trusty Lonely Planet guide were outdoors. To wait out the rain, we went to the movies (Gone Girl) and by the time we emerged, the weather had cleared, so we strolled around Christchurch's Botanic Gardens. It must be a sign of how old and boring we've become, but Al and I do love a nice botanic garden. This one reminded us a lot of Cambridge (UK), which is intentional, since Christchurch was settled by the English (The Canterbury Association, in fact) and was designed to mimic an English city. Like any good English city, Christchurch had some good Indian food, so Al and I celebrated his birthday eating delicious curry and naan at a restaurant called Himalayas.
Our last pit-stop on the South Island before catching the ferry back to Wellington was Kaikoura, a beautiful spot known for whale (and other wildlife) watching. We parked our van next to a roadside seafood barbecue place, ate some scallops and chowder, and then checked out the seals that were hanging around on the rocks. The seals seemed unfazed by the fact that there were people right there, snapping photos and gawping at them.
After taking our seal photos, we loaded into the van and headed back to Picton to catch the ferry to the North Island. I was sad to leave the South Island; we had seen so many incredible things there. One of the things that struck Al and me most about driving around New Zealand — especially the South Island — was the fact that you could pull off to the side of the road almost anywhere and see something breathtakingly beautiful. Most of the things we saw from our van window weren't listed in our guide or on any map; there's just too much to see in New Zealand to even begin to list all of it. The whole country is bursting with hidden treasures. For example, on our way out of Dunedin, we pulled off in a little town called Waitati to get a coffee and try whitebait, a local delicacy (it was okay).
We'd pulled over not because we'd read about Waitati anywhere, but because I had seen a sign on the side of the road for a Sunday market, and figured it'd be as good a place as any to stop and get a flat white. At the little market, as we were drinking our coffees and eating our whitebait sandwich on white bread, we were approached by a kind of wacky looking lady who smelled strongly of patchouli. She wanted to tell us about the Greenpeace campaign she was working on to stop offshore oil drilling in New Zealand. We listened politely as she told us about her campaign and then she began telling us about Waitati and its alternative culture (which includes a local "pirate queen"). She also mentioned that just down the road, there was a beach where blue penguins roosted. She assured us that no tourists knew about the beach and we should check it out. So, we drove down a couple of winding roads, following the signs to Doctor's Point, and ended up at this beautiful, empty beach.
We didn't end up seeing any penguins (the tide was up and it was hard to get to their nesting area), but the place was beautiful, and there was hardly anyone else there. Al and I agreed that if this beach had been in any other country, it would have been written up as a must-see destination, but the fact is, NZ is lousy with tiny, untouched beaches. All you have to do is wander a little and you'll find them.
Overall, Al and I agreed that New Zealand was one of our best trips ever. It had its highs (scenery! penguins! seals!) and its lows (being pregnant in a van with no toilet! hail!), but what good trip doesn't? We will always remember our pre-baby adventure in NZ fondly. I'm so glad we went and I recommend it strongly to anyone else who's thinking of taking a great adventure.