(Cook)book review: A Good Food Day, by Marco Canora
I haven't done much cooking over the last six weeks, since, you know, baby, etc. But our last round of parental visitors left yesterday and I figured it was a good time to restart my normal cooking routine. I'd been wanting to crack open Marco Canora's cookbook, A Good Food Day: Reboot Your Health with Food That Tastes Great since I'd gotten it. I liked the fact that the recipes seemed healthy but not diet-y, with lots of fresh, whole ingredients and flavors. Canora's philosophy, as laid out in his "10 principles for a good food day," involves making eating enjoyable through consciously, mindfully eating a wide variety of real, high quality foods. This jibes with my philosophy, too, so I was excited to give the book a shot.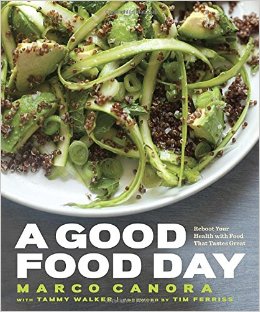 I chose the recipe for braised chicken thighs with garlic, lemon, and Greek olives, since I'm a sucker for a good bone-in, skin-on chicken thigh. I started cooking just as Al was dropping his dad and brother off at the airport, and Lucia was awake (sort of), so I threw her in the sling, covered her with a receiving blanket so that no hot oil would come anywhere near her, and got cooking.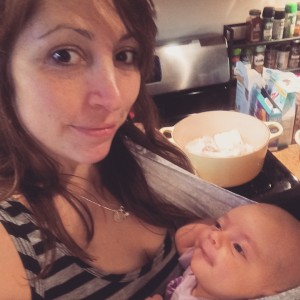 I realized as I was cooking that I didn't have the Greek olives that the recipe called for, so I substituted some capers, figuring they'd provide the salty, briny kick that the recipe needed. I also didn't bother peeling the garlic cloves as the recipe instructed — who has the time, right? The recipe was easy to make and came together quickly — definitely do-able for a weeknight. And, I'm happy to report, it tasted great.
I am not always a fan of cooked lemons — I think sometimes the tartness can verge on the sour and overpowering — but in this, the lemon-y taste was counterbalanced by the sautéed onions and garlic (yum). The chicken came out perfectly tender and juicy. I served the dish with baked sweet potatoes and roasted asparagus.
Overall, a very satisfying meal! I'm looking forward to cooking more out of Canora's book soon. Al has requested the cacio e pepe popcorn, so that'll be my next project. Recommended for those who want to cook with healthy, whole ingredients without skimping on satisfying flavor.
I received this book from the Blogging for Books program in exchange for this review.