Namibia
For our one-year wedding anniversary, Al and I took a long weekend trip to Swakopmund, Namibia, and it was definitely one of the most unique places we've been in Southern Africa.
On a Thursday morning, we flew from Joburg to Windhoek, the Namibian capital, which is a very slow-paced little capital indeed. It has a distinct small-town vibe to begin with, plus, for reasons we couldn't figure out, everything was closed when we visited, including all of the museums. It was kind of creepy, actually, walking around this capital city at ten AM on a weekday and seeing almost no other people on the streets. I turned to Al and asked if there had been some sort of apocalypse memo that we missed, and he wasn't sure. Jury's still out.
We did manage to visit one of the few landmarks that was actually open, the historic Christ Church, a sandstone Lutheran church built in the early 20th century.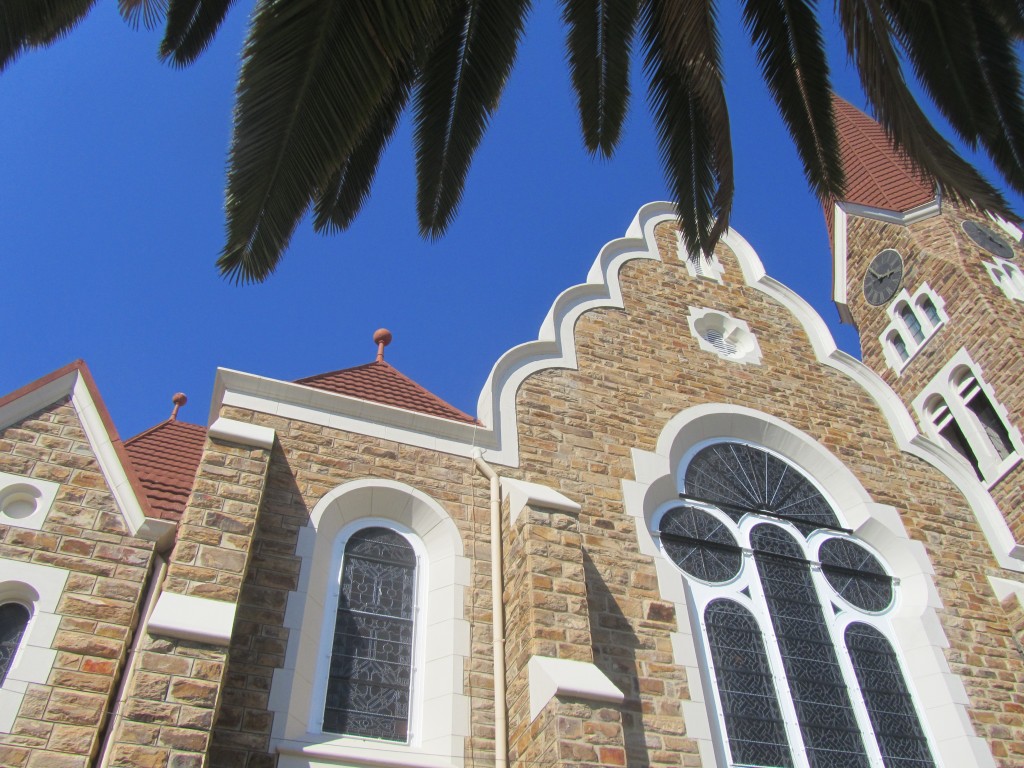 We spent most of the rest of the day sitting at the open-air Zoo Cafe (a curious name, given that Windhoek does not have a zoo), and then eating and drinking at a nearby beer garden, which had some of the most delightful German-to-English menu translations I've ever had the pleasure of reading.
That afternoon, we caught a shuttle to Swakopmund, a beach resort in northwest Namibia that's smack in the middle of the Namib desert. Swakopmund is this weird mix of Germany (it was founded in 1892 as the main harbor for German South-West Africa) and Africa. It has something for everyone: palm trees, desert, beach, wiener schnitzel, beer, wine, pastries, game meat, surfing, adventure sports, seafood — you name it. Al and I were particularly excited about the food: Al ate wiener schnitzel at least once a day, and I ate a lot of fresh fish and steak. Yum!
Since Swakopmund is surrounded by desert, we decided to try a desert-based sport: sand boarding. Sand boarding is exactly what it sounds like: you get on a snowboard and go down a sand dune. It takes some getting used to — it took me two runs and several falls on my butt/head to get the hang of it — but once you can balance and glide down the sand, it's super fun.
And Al discovered he has a hidden talent for flying down sand dunes on a piece of plywood. He got some serious air, dudes.
Overall, we loved Swakopmund and wished we had been able to spend a bit more time there. But I'm glad we got to see yet another country in Southern Africa before our time in this part of the world is up.