Rustenburg
Al and I have embarked on a month-long detox from booze and in his case, candy, and in my case, cheese and dessert (which are often one and the same with me). This is necessary. Very necessary. I've spent the last month and a half flitting from place to place, eating rich food and drinking fine (and not so fine) wine, and it has been GLORIOUS, but I feel that my liver is about to give out and the buttons on my pants are about to pop, so it's time to take a break. In this new spirit of healthy living, then, we decided to have an outdoorsy kind of weekend, so we drove two hours to Rustenburg, the "bustling" provincial capital of Northwest Province, to do some hiking and biking.
Rustenburg itself is pretty low-key – the owner of the lovely B&B we stayed in listed the many dining options at the local mall's food court when we asked her if there were any nice restaurants nearby – but it's home to a provincial park called Kgswane Mountain Reserve that has hiking trails and bike paths. On Saturday morning, we went to the mountain reserve with big plans to go biking. We had loaded up our road bikes – which have sat gathering cobwebs, literally, on our porch since we moved to South Africa – and a newly purchased bike pump and we were ready to go. Only problem was, the bike pump didn't work. After a frustrating half hour of attempting to force the bike pump to work, we gave up and decided to go for a hike. We set off on a hiking trail called the "Vlei Ramble," but we turned around after a few minutes when it became clear that a machete was necessary to effectively break through the underbrush. And the brambles. Oh, the brambles! Al joked, of course, that the trail should have been called the Vlei Bramble. We hiked a trail called the Peglerei Interpretative Trail (huh?) instead, and it was much better. Great views, plus the whole trail was littered with rose quartz. The weirdly rock-obsessed eight-year-old inside me was geeking out the whole time.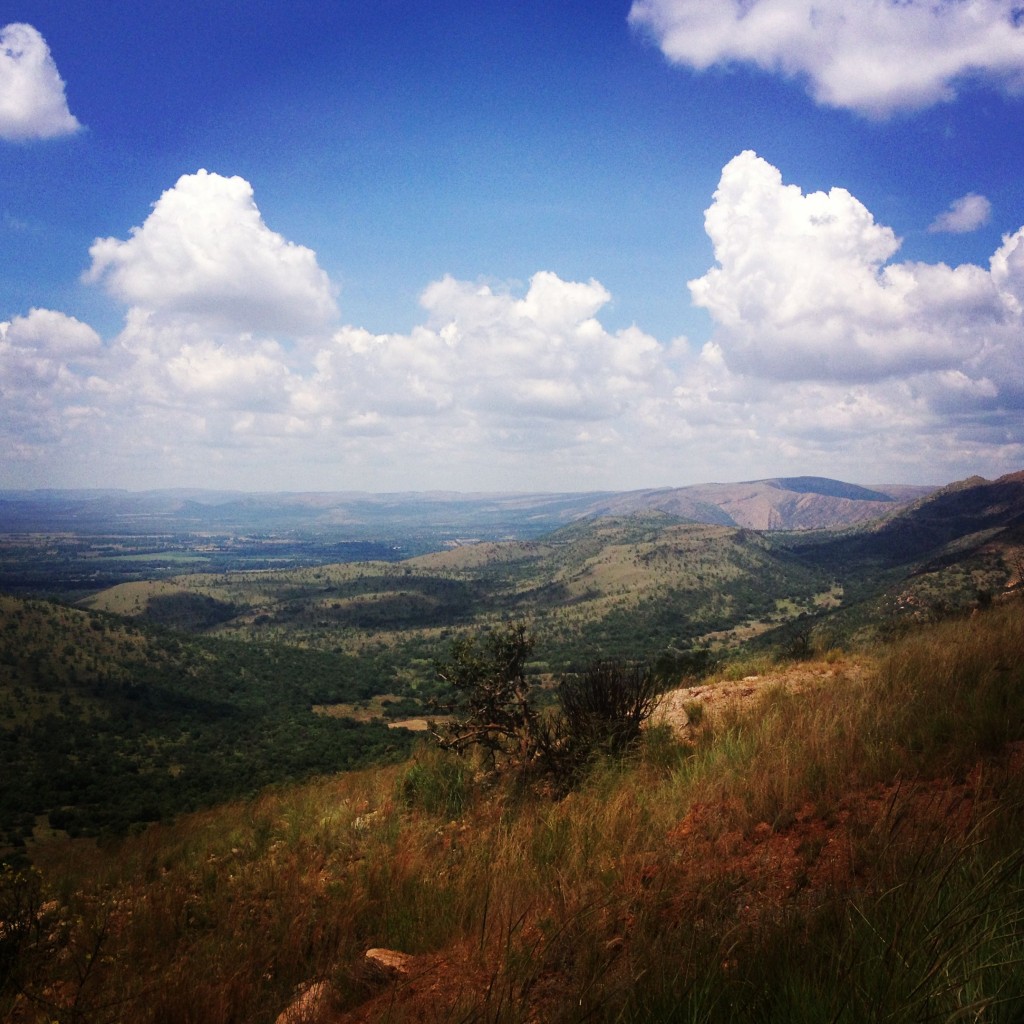 That night, we decided to go to a "nice" dinner at a place we had read about in one of our guidebooks, the Kedar Country House, which is attached to a hotel and a museum devoted to Paul Kruger. There were several clues along the way that this restaurant was not going to be good: when the parking lot in front of the restaurant was dark and virtually empty, when the man in the hotel lobby seemed baffled that we wanted to eat at the restaurant, when we walked into the restaurant and it was empty except for a harried looking family with several screaming children. It wasn't until we saw that the restaurant was buffet-style, with steam trays full of unidentifiable meat mash and a table of wilting salads preserved under saran wrap, that we decided to try to find somewhere else. We hastily made our exit. All of the employees seemed to understand.
We made the bold decision to drive another 20 kilometers to Sun City, the self-billed "kingdom of pleasure" of Africa. I guess the other kingdoms in Africa aren't putting up much competition in the pleasure category (looking at you, Swaziland), so fair enough. Sun City is, in a word, ridiculous. It truly is a little city, containing a golf course, hotels, restaurants, casinos, a wave pool (the grandly named "Valley of Waves"), and even residential facilities. That's right, people live at Sun City. We had heard that there were some good restaurants there, including something called the Famous Butcher's Grill. After driving around and seeing no such grill, we asked a valet at the casino, who told us the restaurant was in the Cabanas Hotel. We parked and went into the hotel and asked the concierge about the restaurant. She told us the Famous Butcher's Grill has been closed for "ten years. Maybe four years." At this point, we had been driving for an hour, we were hungry, and we were nearing defeat, so we decided to give up and eat at the hotel's new restaurant, which I'm pretty sure doesn't have a name, other than "Hotel Restaurant." It was truly the most generic of hotel restaurants: open plan seating in the middle of the hotel, kids running around and playing on a plastic play structure, and – you guessed it – a BUFFET. Resigned to our fate, we sat down and ate our buffet dinner, which was fine. Not great. But fine.
After dinner, being the old farts we are, we were too tired (from the hiking and the driving and the disappointment) to gamble, so we headed back to the B&B. Plus, we all know that gambling's not fun unless you have a little liquor in your system to make your choices just bad enough to be interesting.
The next morning, we bought a new bike pump and headed back to the mountain reserve. We successfully pumped the bikes' tires (huzzah!) and had a really nice bike ride. We did something called the Sable Loop (twice), all the time keeping our eyes peeled for sable antelope, which are very rare but apparently live in the park. We didn't see any (although we did see zebra, kudu, and impala), but it was still a good ride, and we left Rustenburg feeling satisfied, like we had accomplished something. All in all, a good weekend. Who says you need booze and cheese to have fun?